What are the Stages of project management cycle? A project has a start date and an end date and aims at creating a unique product, service, or result. Projects do not go on indefinitely. Projects are not processes that consist of activities that go on indefinitely, are repeatable, and follow a routine.
The unique product, service, or result created is known as deliverable. A project might be similar to another project but they never are identical to each other. This characteristic of uniqueness differentiates a project from a process.
Deliverable means that it has an outcome: i.e. delivering a new product or service, an office block, a health facility, etc. The outcome may be a product, goods, or service.
Furthermore, projects have defined…
Objectives: The goals expected to be achieved. There can be technical goals (develop new technology), legal or political goals (to meet governmental regulations), humanitarian (providing access to water for a given community), and/or business goals (beating or eliminating competition). These objectives should be measurable.
Scope: All the work required to deliver the product or result and satisfy the objectives for which a project was undertaken at a level of quality expected by the customer. Accomplishing the scope results in meeting all the deliverables required to meet the project objectives.
Cost: This is the total cost planned for conducting the project; it includes both human and physical resources.
Time/Schedule: The scheduled timelines to complete activities and meet milestones along the way.
Stages of Project Management Cycle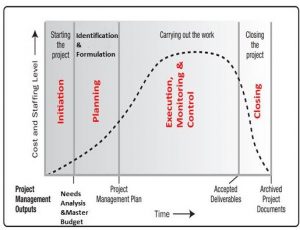 1| Initiation/Programming Phase
The planning phase is when you identify or review your target group. You start with needs analysis based on information from communities. Your need can also come from your feedback and the lessons learned from a previous project. You then decide on how you will respond. If you are part of an international organization, this will usually fit into a global or regional strategy. For example, if your organization focuses on providing education to children, it is unlikely you will set up a health clinic.
Important documents produced in this stage:
Needs analysis
Master budget
Important meetings during this stage:
2| Identification
In the identification phase, your project idea is developed. You will check if it fits within the country's strategy and whether your organization has the capacity to respond, e.g. do you have enough staff to pull it off? Do you have an office in that area?
In this phase, the team identifies all of the work to be done which includes activities and resource requirements along with the strategy for delivering them. This is also referred to as "scope management.
Now that you have an idea of what project you want to do, you can start looking for funding opportunities and decide whether you should go for them. This decision can be influenced by the donor requirements, your organizations capacity, alignment of the opportunity with your strategy, previous experience, etc.
Meetings which take place in this stage:
3| Formulation
Once you have decided to go for an available funding opportunity, the project is designed and a proposal is drafted.
A work plan is developed outlining the activities, dependencies, and timeframes. The responsibility of the Project lead is to coordinate the preparation of a project budget. During implementation, the budget is used to monitor and control cost expenditures.
Upon identifying the work, preparing the schedule, and estimating the costs, the three fundamental components of the planning process are complete. It also prudent to identify and put in place mitigation measures for anything that might pose a threat to the successful completion of the project. This is called risk management.
The purpose of risk management is to identify "high-threat" potential problems along with the actions to be taken on each high-threat potential problem with the aim of reducing the probability and impact to the project if they do occur. This is also the time to develop a Communication Plan with all the information needed and the delivery method to be used to keep the Stakeholders informed.
It is important to document your Resource Plan (identifies the materials, supplies, services, and personnel required to ensure a successful project); Procurement Plan (if procuring services or materials). Another important document is the Quality Plan which provides quality targets, assurance, and control measures. With all these in place, the project will be ready to be executed.
Important meetings to take place:
Proposal planning meeting
Documents to be produced:
Logframe
Budget
Work/project plan
Procurement plan; communication plan; resource plan; quality plan.
4| Implementation | Execution
Once the donor has approved your proposal, you can start with the implementation. You start hiring field staff; procure the necessary material, etc. This phase includes operational planning, project reviews and an adaptation of your activities if they don't work well. Monitoring plays an essential part.
During the implementation phase project plan is put into motion and the work of the project is performed while maintain control and clear communication. Through continuous monitoring of progress appropriate adjustments are made and variances recorded from the original plan.
This allows the Project Lead to maintain control of the project by comparing the progress reports with the project plan. When variances from the original plan are identified, the first course of action should always be to bring the project back on course. As these happens the Project Sponsors and other key Stakeholders should be kept informed as per agreed frequency and format of communication.
Once a project deliverable is achieved it should be reviewed for quality and measured against the acceptance criteria. When all the deliverables are met and accepted, the project is ready for Closure.
Meetings to take place:
Grant opening meeting
Grant review meeting
Documents to be produced:
Actualized logframe
Work plan
Project-filing checklist
Reports
Post distribution monitoring reports
5| Evaluation and Learning |Closing Phase
After its implementation, the project is closed. The emphasis is on releasing the final deliverables to the customer, terminating supplier contracts, releasing and reassigning project resources to other work or projects, and communicating the closure of the project to all Stakeholders.
All of the lessons learned are documented after conducting lessons-learned studies in a post-project review to examine what went well and what didn't. Through this type of analysis, the wisdom of experience is transferred back to the organization, which will help future project teams. Together, all these lessons learned feed into the yearly strategy update of the organization. However, evaluation and learning should always be included in every part of the cycle.
Meetings to take place:
Documents to be produced:
The Triple Constraint
Whether complex or simple, high-budget or low-budget, lengthy or brief in time, all projects have the same three general objectives: meeting the scope (including quality criteria of the deliverables), meeting time constraints, and meeting cost boundaries. These three objectives are called the "Triple Constraint." These three constraints work together in an interesting fashion. They must always be kept in balance with each other – which is one of the biggest challenges Project managers face.
Conclusion
What are the stages of project management cycle? The stages of project management cycle are initiation, identification, design, implementation, and closure phase. It is critical to document the lessons learned so that the wisdom of experience is transferred back to the project organization, which will help future project teams.